PROFILE
name : おはら ひろみ
<TORIKONIA>/<Hiromi Ohara>
つくり手
おはら ひろみ
東京藝術大学美術学部デザイン科卒業
2012 TORIKONIA というブランド名で活動開始
同年 12月「Hiromi Ohara」 の個人名でジュエリー制作活動を開始。
   O-Jewelに所属
特殊な土を焼き固め、日本画で使われる岩絵の具で絵つけを施す。
Hiromi Ohara
Graduated from Tokyo University of the Arts, Department of Design
I think of my work as a means of self-introduction― it is my way of knowing who I am.
I wish to engage in self-expression without straining myself, by working through the sensibilities that I possess inside of me.
My Japanese identity defines one aspect of my work that feel myself
Eternal magic, lasting in the stream of time, ever unchanging.
Material:Pottery (mixed with resin) , Mineral pigment( iwa-enogu ) ,Pigment, Resin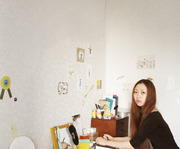 HP
http://www.torikonia.com